Due to the WannaCry Ransomware incident, many inqueries have been made to our customer center.
If you want to prevent Ransomware, you can prevent it by installing the AppCheck which is distributed free of charge.
We also deceided to provide corporate customers AppCheck Pro, AppCheck Pro for Windows Server and CMS in free of charge in limited time, regardless of the number of PCs for prevention.
If you are a corporate customer, please contact us at customer center with to obtain license.
Customer Center:
https://www.checkmal.com/page/support/inquiry/
Please install AppCheck to prevent Ransomware.
[Related Material]
WannaCry Ransomware Analysis Report
WannaCry Ransomware Proactive Defense Case Study
Why AppCheck?
Thank you.
Next Generation Anti-Ransomware Solution
AppCheck
Prevent, Detect, Recover
WHAT WE DO
CheckMAL's endpoint anti-ransomware defends from modern-day ransomware attacks with unique Context Awareness Ransomware Behavior engine.
CUSTOMER REVIEWS
" I have to manage more than 1500 endpoints. All my endpoint has traditional AV installed, but ransomware infections happened everyday. It seemed me to almost impossible to handle ransomware infection until I found [AppCheck Pro]. It's the most advanced anti-ransomware solution with subtle usage of resource I've ever met. It's almost unbelievable. [AppCheck Pro] tops both ransomware prevention and disaster recovery. "

G. Yoon. – IT Administrator at a Medical Center
" Appcheck's currently the go-to I recommend to people if they want a dedicated anti-ransomware tool. It'd be nice to have two to recommend if this proves effective. "

Arequire@Malwaretips.
" Appcheck is the best free antiransomware tool so far. "

Evjl's Rain@Malwaretips.
" Very good, AppCheck is strong, the free version for some reason has the MBR protection disabled. "

_CyberGhosT_@malwaretips.
POPULAR DOWNLOADS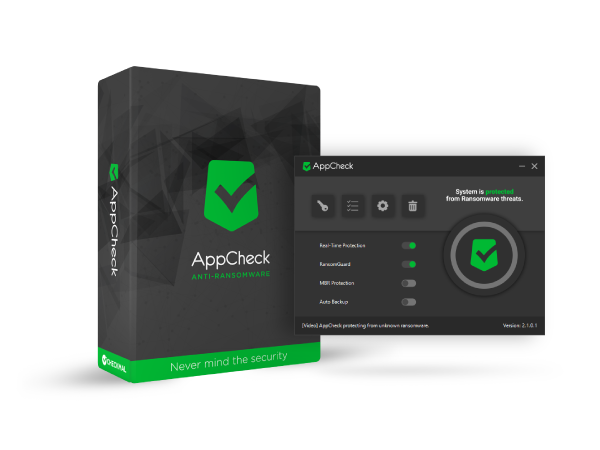 AppCheck (Free) : Free for home and non-commercial use.
Please upgrade your web browser for better website experience.