The new feature of AppCheck "Vulnerability Protection (Exploit Guard)" has been officially released through the update of AppCheck version 2.4.10.1.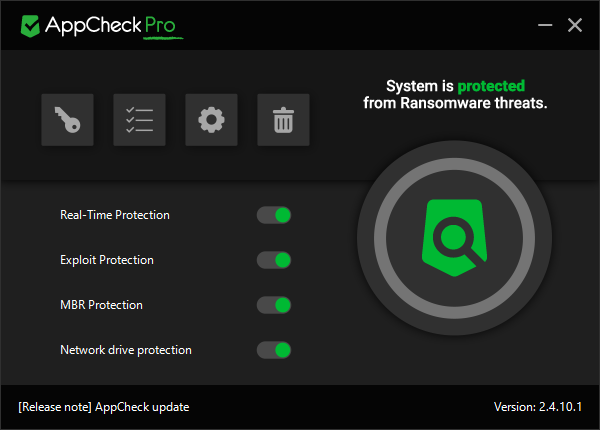 Exploit utilizes bugs and vulnerabilities in applications and executes malicious codes, which causes malware infection. AppCheck Exploit Guard provides proactive defense against both known and unknown(zero-day) exploits when opening malicious website and documents.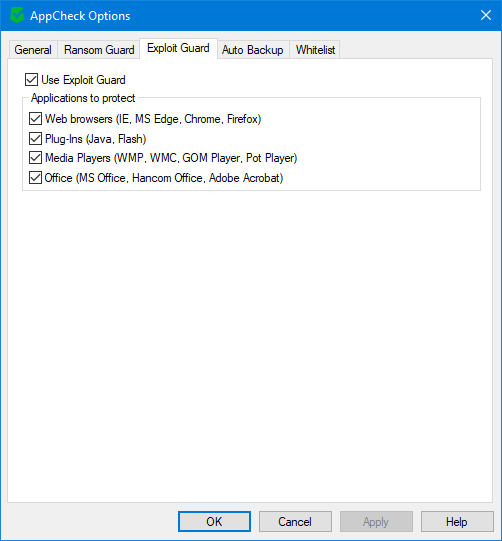 | | |
| --- | --- |
| Web Browser | Internet Explorer, Microsoft Edge, Chrome, Firefox |
| Plugin | Java, Adobe Flash |
| Media Player | Windows Media Player, Windows Media Center, GomPlayer, PotPlayer |
| Office | Microsoft Office, Hancom Office, Adobe Acrobat |
AppCheck Pro protects Web Browser, Plugin, Media Player and Office. AppCheck Free protects all categories except for Office programs.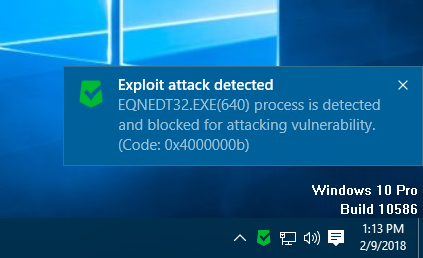 When you open maliciously crafted MS Word document in vulnerable environment, AppCheck blocks the exploit execution and notifies user with "Exploit attack detected" message.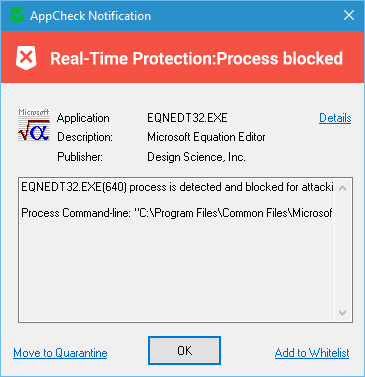 When you click the detection message, you can get detailed information of process. Click "Details" for the additional information in Detection Log.

Detection Logs provide blocked process information. If the exploit is web-based, additional information is provided such as target Command-Line, Distribution URL, Referrer URL.
With this update, AppCheck now can prevent Ransomware attack more strongly through fourfold defense system - 1st shield : Exploit Guard – 2nd shield : Ransom Guard – 3rd shield : Ransom shelter – 4th Shield : Auto Backup.